Zubaida Tariq Quick Weight Loss Tips & Totkay in urdu
Zubaida Tariq is most Famous Personalty of Pakistan, Also Known as Zubaida Apa, she is one of the best chef of Pakistan, she is not only a popular cooking expert, she also an excellent health and fitness expert.
Apa Zubaida Tariq hosting a cooking show which name Handi on Masala TV, her show Handi is very popular in women and girls, not only in Pakistan also in others countries of the worlds like India, UAE, Dubai, Saudi Arabia in western countries USA UK.
Her Cooking show is very helpful for those girls and women who wants to be a good cooking expert and learn how to cook. Zubaida Aapa also famous for his Beauty Tips, Totkay and Home Remedies for Hair, Skin Glowing and Skin Whitening, Home Made Tips to Remove Acne Spots and Scars on Face, Tips for Fairness and Dark Spots on Face Nose, Dark Circles Under Eyes. and Weight Loss Natural Tips, Totkay and Diet Plane.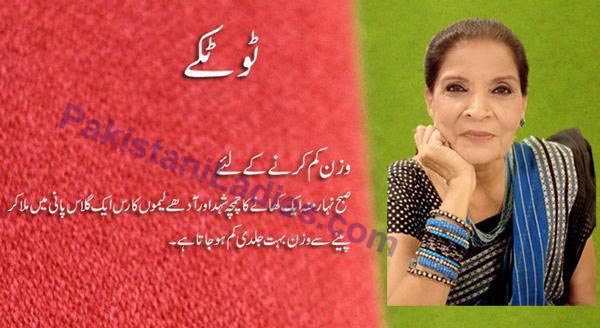 Weight Loss with Soups
Food containing lots of water mostly have a low energy density and thus, they make you eat less, which leads to less consumption of calories.
Thus, soups are one of the best choices to reduce weight because of its high water content it makes you consume fewer calories in a healthy way and thus you lose all those extra pounds.
Weight Loss with Grapefruit
Grapefruit is one of the famous fruits consumed by people who want to lose the extra weight.
Studies have proven that if you eat half grapefruit half hour before consuming your meal it will help you eat fewer calories, it also enhances the metabolic rate thus improving your health, and you will sheds pound.
All these food stated above are the healthy way to losing those extra pounds in a balanced and natural way.