Baby Corn Paneer Ke Pakode Sanjeev Kapoor Khana Khazana Recipes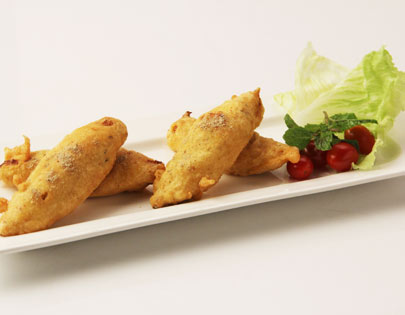 Sanjeev Kapoor is one of the most famous cooking expert of the India, He hosting a Show on TV Chanel Which Name is Khana Khazana.  Sanjeev Kapoor Khana Khazana Show is very watchful aand longest cooking show in Asia, it broadcasts in more the 120 countries of the world and million of viewers of it.
To day we are sharing very popular Recipe of Sanjeev Kapoor Baby Corn Paneer Ke Pakode it is very testy recipe and every one likes it very much specially kids
Ingredients
Baby corns boiled 10-12
Paneer (cottage cheese) grated 200 grams
Red chilli powder 1/4 teaspoon
Amchur powder 1 1/2 teaspoons
Salt to taste
Ginger finely chopped 1 inch piece
Green chilli finely chopped 1
Oil to deep fry
Gram flour (besan) 1/2 cup
Refined flour (maida) 2 tablespoons
Carom seeds (ajwain) 1/4 teaspoon
Soda bicarbonate a pinch
Chaat masala 1/4 teaspoon
Method
Place babycorns in a bowl. Add ¼ tsp red chilli powder, 1 tsp amchur, salt and toss lightly. In another bowl, mix together paneer, ginger, green chilli, remaining amchur, salt and mix well.
Heat sufficient oil in a Nirlep non stick kadai. Mix together besan, maida, ajwain, a pinch of red chilli powder, salt, soda bi carbonate in a bowl, add sufficient Bisleri water and whisk into a batter.
Coat the babycorns with the paneer mixture and then dip them in the besan mixture. Deep-fry the pakodas in the hot oil till golden. Drain on absorbent paper and sprinkle chaat masala.
Arrange a cabbage leaf, cherry tomatoes and mint leaves on a serving plate. Transfer the pakodas on the plate and serve hot.
Original Source, sanjeevkapoor.com