Mehndi designs have been in use for centuries. They started out in Asian and African countries such as India, Pakistan, Egypt and several middle eastern countries. Mehndi designs were not just popular among the rich, but the poor also wore them as a cheap alternative to jewelry. Now, mehendi designs symbolize happiness as they are worn on festive occasions such as weddings, Eid and Holi. In many cultures, dark coloration of mehendi designs are considered a symbol of good luck.
Each country introduced its own kind of unique and innovative style. Some combined the different elements of each country's strength to form a modern and beautiful look.
History of Henna Designs




Historically, it has been reported that many Egyptians used mehendi designs as a way to decorate their bodies. Cleopatra, the most beautiful historical Egyptian figure who was known all over the world for her beauty and intelligence, was known to wear henna. It was also observed that Egyptian mummies were also buried with mehndi designs.
However, in the Asian regions, up to this day, henna designs are considered a necessity on special occasions. Without mehendi designs displayed gorgeously on the bride's hands and feet, the bride look is considered incomplete. Mehndi designs are especially worn during religious events such as Eid-ul-Fitr, Eid-ul-Azha and Holi as they define the hands and feet in a beautiful manner.
Now, the use of henna has spread over to the West as well where henna designs are incorporated in the form of temporary tattoos. They were brought to the West in the 90s when stars like Gwen Stefani showed off mehendi designs on the media.
Different Kinds of Henna/Mehendi Designs
With mehndi designs gaining popularity all over the world, people are becoming more curious about it. There are several different kinds of mehendi designs, all featuring their own unique elements. However, each culture describes mehendi in a different way. In the Western culture, mehendi is commonly known as henna, while in the South Asian countries, it is well known by the name of al-hina, mehendi, and mehndi. It is also known as Jamaica Mignonette in some regions of the world.
Although mehndi is applied in a similar manner, it features several different designs. Middle Eastern countries such as Saudi Arab has its own unique pattern of applying henna designs. Pakistan and India also present innovative and beautiful designs, and there is a diverse range of patterns of some of the best mehndi designs emerging from different areas within the country such as Rajasthani and Punjabi.
Indians and Pakistanis are also proud to present a wide range of amazing and detailed bridal mehndi designs which can make the bride stand out from everyone on her special day. There are also attractive yet simplistic designs for bridesmaids influenced by the Pakistani and Indian culture. On the other hand, African and Egyptian mehandi designs provide various patterns of mehndi tattoos.
10 Best Mehndi Designs 2018 for Young Girls
For girls on the younger side of the age spectrum, the best mehndi designs 2018 has to offer focuses on simplicity and minimalism. As little girls have smaller hands, simple mehandi designs embrace that and make the hands of your little one beautiful while keeping a child in mind.
The gol tikki is as minimal as one can get with henna designs. This design is timeless, effortless and extremely easy to apply. It can even be applied on infants and toddler girls.
The gol tikki involves a round circle in the center of the palm of the hand which is filled with mehendi completely. The circle or the tikki is then surrounded by small dots with an extended line, almost similar to the shape of an apostrophe. These dots are then outlined by cloud shaped bubble. This mehendi design is completed by filling the top portion of the fingers with henna.
The second mehndi design 2018 has to give that would fit the tiny and petite hands would be the bangle mehendi designs. These mehendi designs involve creating a tiny, floral, patterned bracelet on the wrist of the girl's hand. The best part of this henna design is that it can embrace either the Arabic mehndi design or the Pakistani/Indian mehendi design. You can draw the pattern that suits your little girl's preference. You can even add a ring on the finger to make it look more perfect.
Furthermore, this mehendi design can be matched with a pastel-colored nail paint to make it stand out even more. You may also make alterations to this mehandi design. For instance, instead of making a thick bracelet, you can create a thin line of flowers and create a thin floral pattern on one of the fingers. These easy mehndi designs are uncomplicated and can be applied by anyone without much practice needed.
The third type of mehndi designs 2018 presents you with for a little girl is a lace glove. Like the bangle mehandi designs, it can embrace any other cultural design and its pattern and still give a unique and gorgeous look. The lace glove stands out from other designs as it offers minimum to almost no use of mehendi on the fingers.
In these mehendi designs, the wrist area is entirely covered with patterns and shapes in the form of flowers and petals that work together to form a beautiful design. The center of these mehendi designs creates a bow-like structure that ties the design with the end of the middle finger, making an effect of a person wearing a glove. These mehendi designs are sleek, modern and perfect for little girls.
The Moroccan mehandi designs also constitute as a part of easy henna designs for young girls. These mehandi designs originated, as the name suggests, from Middle East. They include a lot of geometrical shapes and figures including squares, triangles, and diamond-shaped features which are surrounded by floral patterns to give a fresh, young look.
Additionally, these mehandi designs are a seamless fit for younger girls as they have a lot of spacing and don't make the hand look smaller than it is.
The new easy henna designs for young girls include a hanging star design. These mehandi designs are one of most innovative mehndi designs 2018 brings. It is recommended for the young generation because it doesn't fill up the hand completely and includes shapes featuring stars, hearts and small dots.
This is one of the easy henna designs as it is minimal. It features shapes starting from the center of the palm with a lot of spacing. On the wrist area, lines representing strings are present which are connected to the stars to give an illusion of stars hanging down from the wrist, hence the name 'hanging stars.'
Colored mehendi is another novel and easy henna design. This design features black mehendi as an outline and the inner design is filled with the typical mehendi. You may also use red mehendi for the filling. Colored mehandi designs are suitable for young girls as they are fresh and colorful and give a youthful look. Little girls can further elevate this design by using glitter mehendi as an outline. They may also use gemstones to give a more glitter-filled and youthful effect.
The seventh mehandi designs in the list of easy henna designs for young girls is the curved line design. This is simple and comprises of a lot of free space. These mehandi designs feature a curved floral pattern spread in the center of the wrist in the form of a curved line which covers up to two fingers. A similar pattern is incorporated on the left corner of the wrist to make the look cohesive.
One of the best mehndi designs for young girls include the bracketed design. This features dots connected with lines on the fingers. The wrist area is covered with floral patterns and bracket styled lines.
The ninth best and easy henna designs for little ones is the big flower design which features large flowers on the left corner of the wrist and the rest of the hand is filled with small flowers made by arrangements of dots.
The tenth and final youthful and easy henna design is the fish henna design which is influenced by Arabic mehndi designs. This includes shapes such as those of sunflower and small petals to give a young and modern look.
Best Mehndi Designs 2018 for Everyone
The best bridal mehndi designs 2018 has provided is peacock henna design. This design includes thin lines which are applied starting from the wrist all the way to the upper arms in the shape of the head of the peacock. This can include a wide variety of designs and patterns taken from the Indian, Pakistani or Arabic designs.
The next best mehendi designs are the Rajasthani style. It comprises of thin mehendi which includes a lot of floral designs created closer together to give a filled look on your hands. It can also be applied on the feet.
The third mehndi designs 2018 has for everyone is a curved simple line created precisely all over the wrist featuring a bold, thick floral pattern. This design is taken from Arabic mehndi designs as it is simplistic and beautiful.
The fourth best mehndi designs 2018 brought out is the heart-shaped design. This design displays the emotion of love and finds innovative ways to incorporate hearts into the design.
The gol tikki is another design that can be used on women of all ages as it is timeless. It can be used on adult women by adding new patterns, which may also include addition of Arabic mehndi designs. This combination of designs will bring out a fresh new look.
Punjabi mehndi designs also serve timelessly. Loops and spirals are one of the most common styles which look perfect on hands of all sizes.
A mixture of Arabian mehndi designs and Punjabi mehndi designs is also suitable for women of all ages. It comprises of thin yet minimum design on the hands.
The eight mehndi designs involve the use of shoulder-length heavy motif which can be used on the bride on her wedding day. This mehndi tattoo makes the bride's arms look striking and elegant.
The West also gave a new way to apply mehndi tattoos, one of which is incorporating floral designs on the upper back.
Lastly, you may also use checkboxes to apply your mehendi. This along with the traditional and peacock styled mehndi will provide a striking look for your hand.
How to Achieve the Best Henna Designs?
In Terms of Application
To apply the mehendi in the best way possible, you need to have a lot of practice. As mehendi is temporary but still lasts for days, it is better to start your practice on application paper. You can draw a hand on the paper and create your desired design on top of it. You can then hold the mehendi like you would normally hold a pencil and trace the design on top of it. You should start out with thicker designs such as a gol tikki and Arabic mehndi designs and work onto thinner and complex designs.
Once you excel on paper, you should move onto practicing your art on the small mirror as it increases the difficulty level. Once this has been accomplished, you may now start practicing without the designs being present. At this stage, you should not need to trace the designs. Slowly, you can start applying henna on hands.
In Terms of Color
To get the best color, you need to get a good henna cone as the quality of the henna is the leading factor in determining how the result would turn out.
Additionally, if you apply Vaseline or Vicks on top of your mehendi once it dries, it is known to improve the resulting color.
Applying a solution of lemon and sugar on dry mehendi can also help enhance the color.
You can also apply eucalyptus oil after washing the mehendi to get a dark color.
Latest Mehndi Designs of 2018 – BIG Collection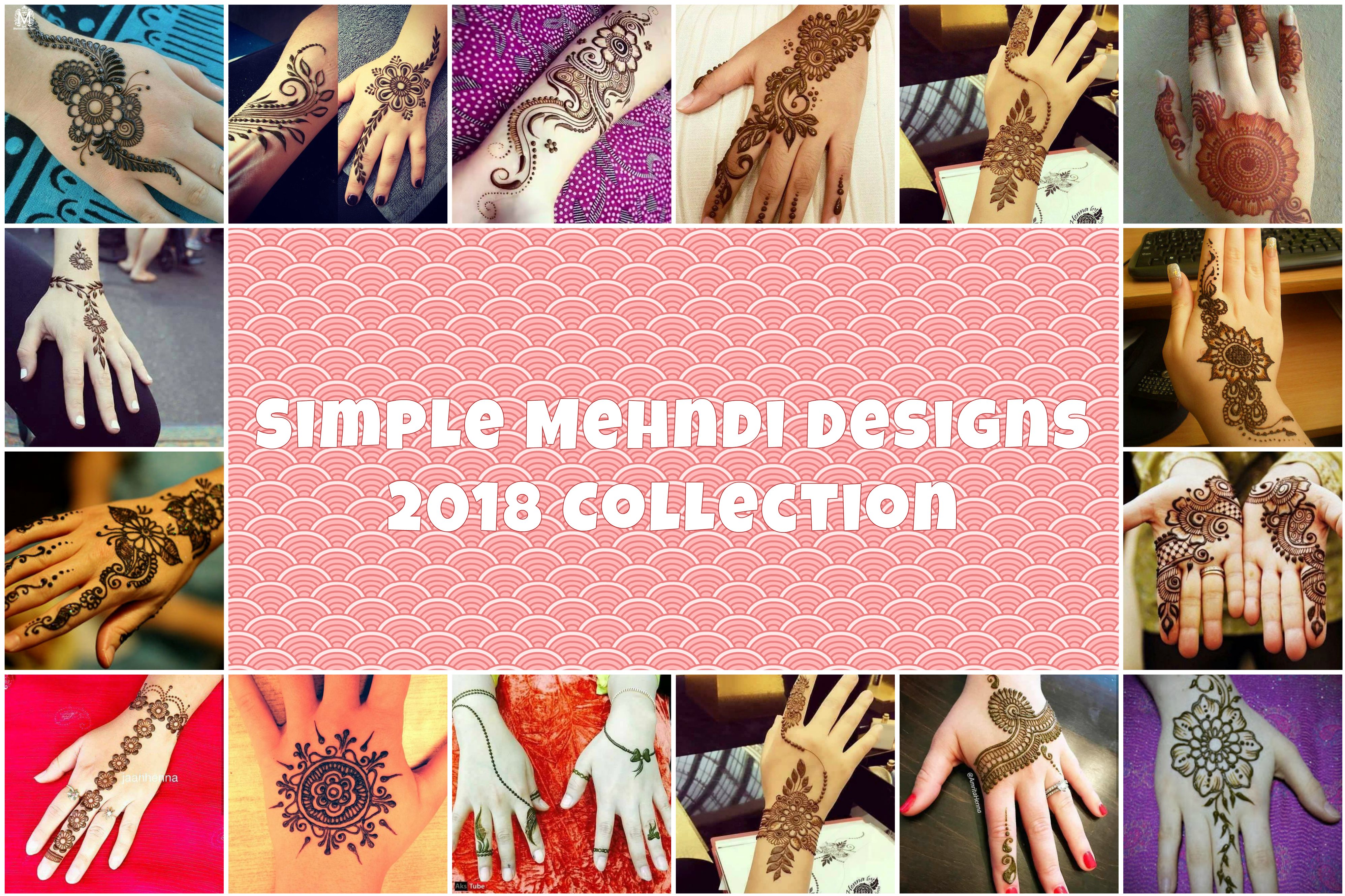 Are you looking for simple mehndi designs? Call it henna, call it mehandi, but it remains one of the most beautiful and symbolic body decorations to date. You could be …
1 comment