Bridal Fashion Couture Week Collection Wedding Dresses Trend in Pakistan

Wedding day is equally important for both brides and grooms, but we all know brides take more time choosing the perfect outfit for the big day. Hence the designers provide our brides with as much variety as possible.
Pakistani Bridal Couture Week 2020 is also aimed to promote the latest Bridal Dresses trends for our beautiful brides to be. This week provides us with a number of awesome ramps walks showcasing Bridal Dresses Fashion 2017.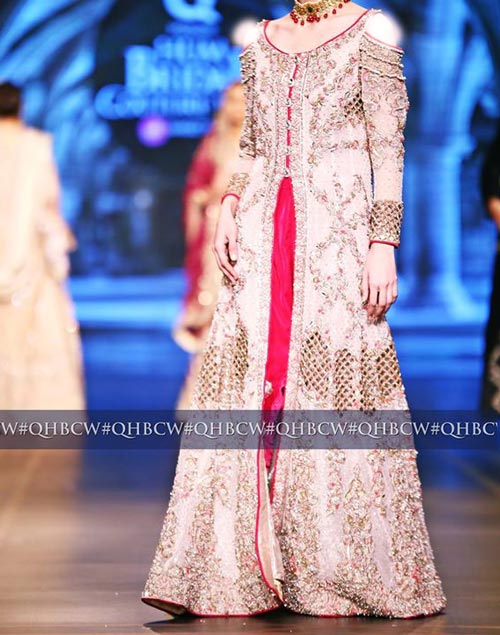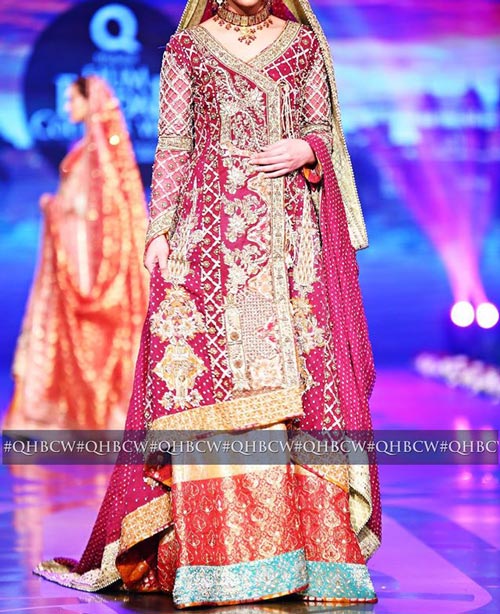 While going through the dresses showcased in this year's Bridal Couture Week, I noticed that there was a great emphasis on cuts rather than the colors of the dresses. Mainly because our brides prefer the same tones of red and maroon for the big day and lighter tones for the Walima day.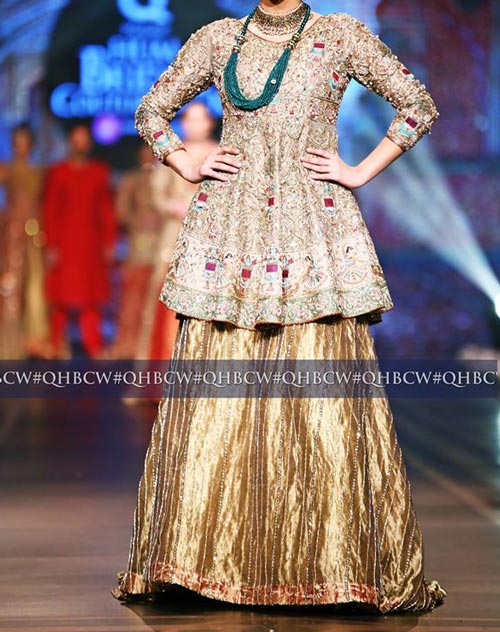 One more thing that I noticed is that gold is trending more than ever. The golden color dresses were almost lost in the near past, but they are now back with a bang. All the designers have a gold collection.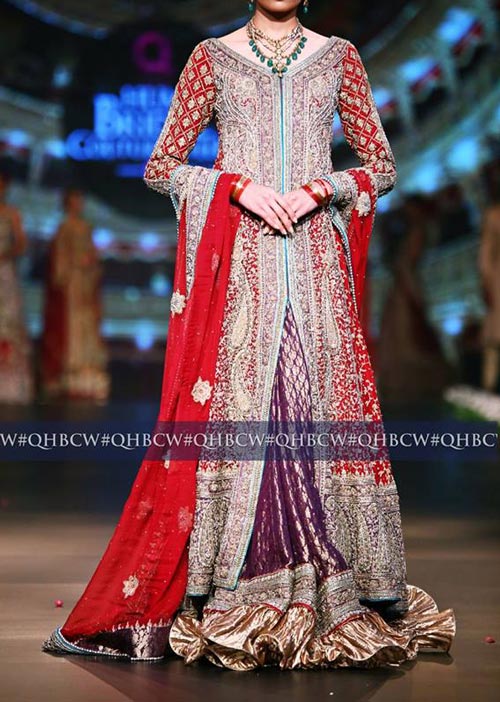 While we believe that Telenor Bridal Couture Week Pakistan is just aimed towards trends of brides, it's not true. There are ramp walks dedicated for our grooms as well, showcasing the newest trends.
See Also >> Latest Bridal Sharara Gharara Dress Design 2017 for Mehndi Wedding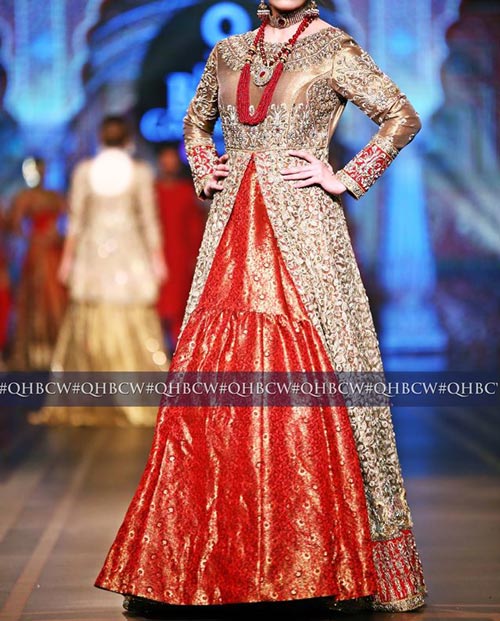 Again the trend of matching colors of the bride's and groom's dresses hold so you will be seeing a lot of gold color dresses in groom's catalogue as well. Let's discuss the newest trends for both men and women categorically: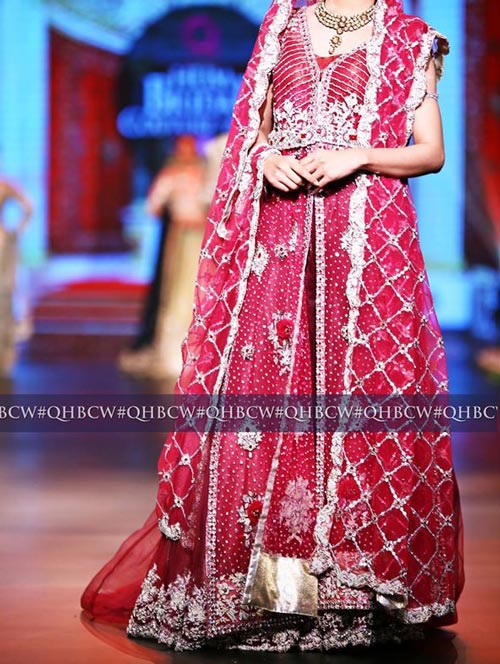 Wedding Day Dresses for Brides and Grooms
No matter how many functions you have for your wedding. The wedding day will never lose its significance. After all this is the day that you two will move in with each other and will start a new life. So it is important to look awesome on this day more than any other day.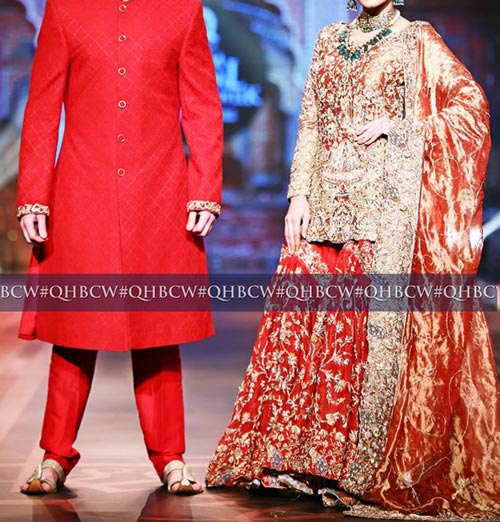 According to the Bridal Dresses Trends of 2017 you should go for tones of mild or bright red with not-so-heavy embroidery. The newest trends suggest going for as less embroidery as possible and lots of pearl work (if you yourself like pearls). For grooms either you can go for white or black sherwani dress with as less embroidery as possible. Go for Kulla if it suits your face cut.
Walima Dresses for Bride
Brides prefer wearing a lighter tone of colors on their Walima. The tones in fashion are pista color, white and off-white, blues and other mild tones of purple & pink. Just make sure to avoid repeating the color on all the series of functions you are planning to have. For grooms its suit-up time. Don't forget the tie pins and the newest accessories like collar pin.
See Also >> Net Bridal Lehenga Fashion 2017 Wedding Dresses with Cut Work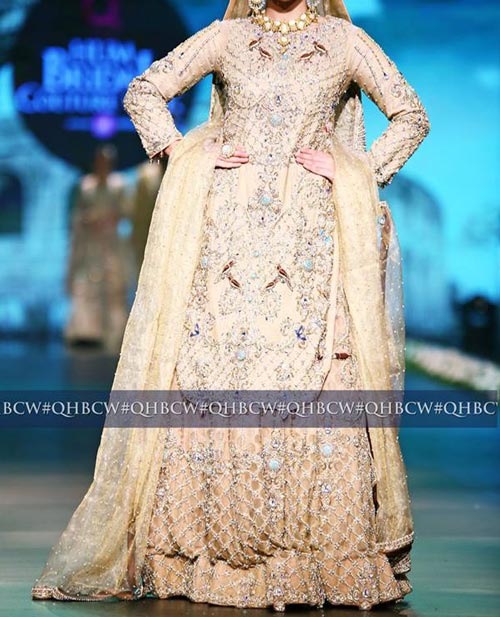 A wedding is the utmost important event in your life and dresses are the most important to make you look beautiful. So plan them well. Do not just follow the fashion but also what suits you and what doesn't. Don't hesitate to try the new trend but also don't go for something that kills your beauty.