Beautiful Bridal Makeup, Smokey Eye Tutorial Step by Step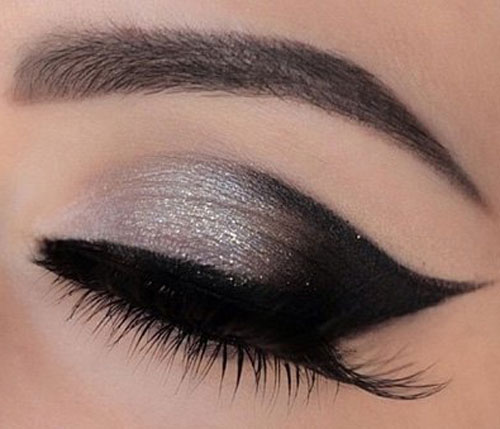 It is the desire of every woman to look great and in order to achieve it makeup plays an important role. Eyes are are the most important part of our face and it also gives a glamorous look to your eyes. When we come to the bridal eye makeup, its trend is totally changed now.
Shimmery, glittery and Smokey Eye Makeup are being liked by everyone with the combination of bold and bright shades for Bridal Eye Makeup in Pakistan. You can also choose an eye shadow according to your bridal dress color. If you don't like bold shades then you can go for the golden, Smokey, brown and pink eye shadows.
Bridal Makeup Tutorial
Below mentioned Step by Step Smokey Eye Bridal Makeup Tutorial will how to apply eye makeup in just few easy and simple steps. Let's check it out below.

Image Credit To Maya Mia
Bridal Makeup Smokey Eye
1.    Concealer;
Apply a small amount of the concealer around your eyes and then tap with the fingers until the dark circles completely gone.
2.    Eye base/ primer
After applying the concealer, now it's time for the Eye base. The basic purpose of the eye primer is to keep the makeup for the long hours and give a bright and attractive look to the eye shadow.
3.    Eye shadow
You can also choose an eye shadow that watches with your bridal dress. Start from the inner corner of eyes and ends on the outer one, but don't forget to blend it nicely. Apply another coat of black eye-shadow over the middle of lids and then forward to the outer corner of the eyes.
4.    Eyeliner
Apply thin eyeliner over the lids and kajal pencil under inside your eyes. It will give you unique and beautiful look that will inspire your family and friends.
5.    Highlighter
After eyeliner, apply gold or silver highlighter on the inner eyes corner and the brow bone to beautify them.
6.    Mascara
Curl your eye lashes with the mascara. But don't overdo the coat. Try to keep your lips neutral.  It will give your Smokey eyes a neutral look. You can use pink or caramel lipstick shade or lip gloss for this look and finish it off with the rose color blush.
That's all you have done with the bridal smoky eye makeup. Enjoy your beautiful, stunning Smokey eye makeup look!