Bridal/Dulhan Makeup Tips, Perfect Ideas for Wedding Day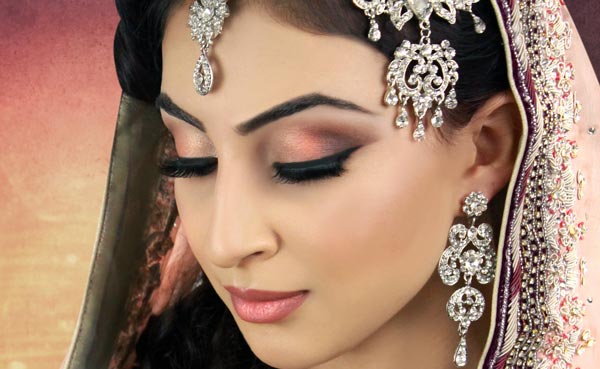 When done with the shopping of every minor detail for the bride there is still one important thing left without which the bride is incomplete. Yes, that is the Bridal Makeup and every girl understands that a perfect makeover will make the guest admire her beauty and elegance.
Therefore, there is going to be no compromise on the makeup. This is the reason many of the salons are booked before the wedding date and the artist is presented with the colors of the dress so that he can select the shades he is going to apply to bring out the natural beauty of the Dulhan.
We all know that bridal makeup is not just a single day work. We have to take the complete package in which the mehndi night makeup is very light. The barat and walima makeover is usually heavy and done according to the preference of the girl.
Bridal Makeup Tips
Every girl wants to look perfect on her big day and thus she will not let the beautician miss any details in her bridal makeover. Therefore, here are some of the essential tips for the makeup artists:
Apply the base perfectly and make sure that the shade of the base is matched with your skin tone. Apply it on the face, neck and arms to complete the look.
Apply the concealer to cover dark areas.
While applying the blush consider the shape of the face. You must apply the blush with such strokes that it will make the face look thin.
If you want to enhance that pretty smile and boost the shyness then the girls with the thin face should make their cheeks look heavier.
While applying the makeup, It is important to consider the shape of the nose as well.
Use golden, red and other dark colors for the baraat and sweet light colors for the walima to give a different look to the bride.
Make sure that if you have applied dark eye shades then have a light lip color and vice versa because it will create a more attractive look.
The girls with big eyes should apply thin eyeliner and those with small eyes should have a thick eyeliner.
Make sure that you do not pluck the eyebrows.
The shades of your dress should be highlighted in the eye colors with a red lipstick will give an amazing look.
If you want your lip shade to last longer, do not forget to apply a lip balm under it.
So these bridal makeup tips will help you to make sure that your beautician is creating the perfect bridal look that you want for the event. Make sure that you examine the previous work of the artists before making your appointment to assure that he will provide you with the best services and change your look with such perfection that the guests will not be able to take their eyes off you.