Pakistani and Indian Recipes in Urdu and English, Easy 

DAAL BAATH

by Pakistani Chef Rida Aftab Cocking Show Tarka on Hum Masala TV
Ingredients:
For Making Rice:
Rice 1 cup
Water 4 cup
Oil 2 tbsp
Salt 1 tsp
For Making Lentils:
Red Lentils 1-1/2 cup
Water 4-5 cup
Turmeric Powder ½ tsp
Butter 6 tbsp
Salt to taste
Green Chilies 6
Finely Chopped Tomatoes 2
Onion Sliced 1
Red Chilies Powder 1 tsp
Chopped Garlic 1 tsp
Green Coriander for garnish
Oil 2 tbsp
Method:

• Wash and soak rice for 5 minutes.
• Boil water and add in 1 tsp salt and 2 tbsp oil.
• Add in soaked rice. Boil it, drain the excess water and simmer it.
• To make daal, soak ½ cup lentil for 10 minutes.
• Then add in turmeric, salt, green chilies, red chili powder, chopped garlic and chopped tomatoes.
• When it is cooked, mix it with a wooden spoon.
• Add in water and cook it for 5 minutes.
• Add in butter and 2 tbsp oil and heat it.
• Add in onion slice and chopped garlic.
• Add it in daal.
• In the end, garnish it with chopped coriander.
• Serve hot.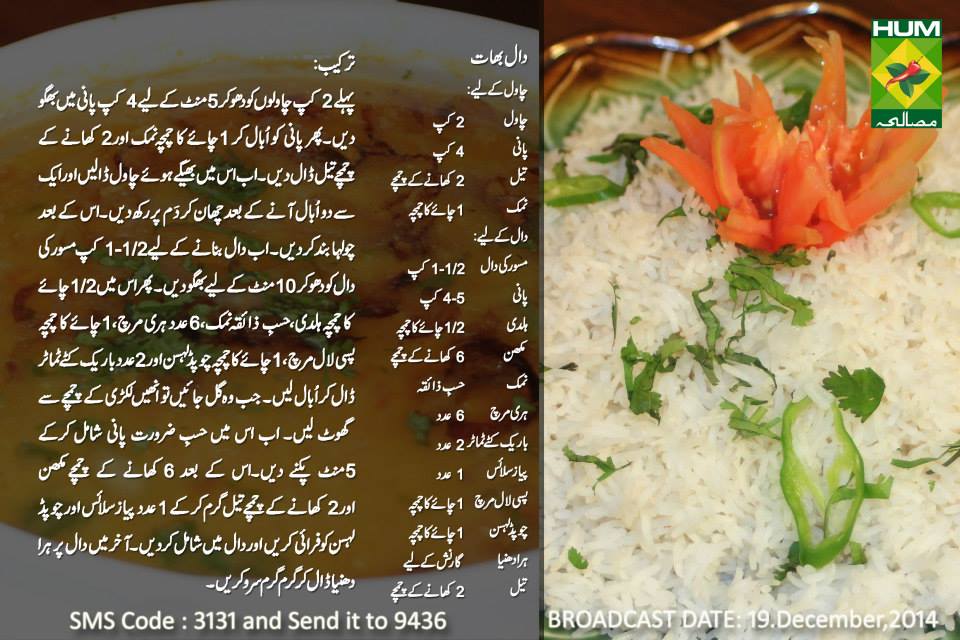 Incoming Search Terms
dal bhat recipe indian
dal bhat tarkari recipe
make dal bhat recipe
dhal bat recipe
dal bhat recipe gujarati
dal bhat recipe in marathi
dal bhat recipe in hindi
dal bhat rezept