Pakistani Testy Green Malai Tikka Pizza Recipe in English by Zubaida Tariq Coocking Show Handi on Hum Masala TV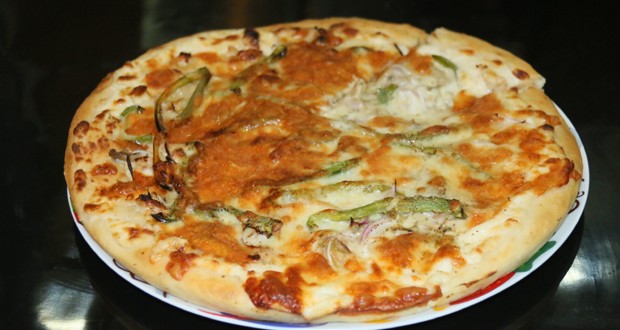 Ingredients for pizza dough
Flour                                                                            2 ½ cup
Instant yeast                                                                1 ½ tsp
Salt                                                                              ½ tsp
Sugar                                                                           1 tsp heaped
Oil                                                                               2 tbsp
Chicken powder                                                          1 tsp
Luke warm water                                                        to knead
Ingredients for filling
Boneless chicken 250 gm cut in strips
Salt ½ tsp
Ginger garlic 1 tsp
Green chili garlic sauce 1 tbsp
Cream 2 tbsp
Lemon juice 2 tbsp
White pepper ½ tsp
Oil 1 tbsp
Ingredients for creamy pizza sauce
Butter 1 tbsp
Corn flour 2 tbsp
Salt ¼ tsp
White pepper ¼ tsp
Milk 1 cup
Ingredients for topping
Onion 1 sliced
Capsicum 1 sliced
Mushrooms 4 sliced
Cheddar cheese ½ cup
Mozzarella cheese ½ cup
Oregano leaves 1 tsp
Method for pizza dough
Put all in a bowl Flour 2 ½ cup, Instant yeast 1 ½ tsp, Salt ½ tsp, Sugar 1 tsp heaped, Oil 2 tbsp, Chicken powder 1 tsp and knead with Luke warm water into a soft dough, bang dough well, keep the dough in greased bowl, leave it covered till doubled for an hour, punch down the dough, grease pizza pan, roll dough and put on the greased pan prick with fork.
Method for pizza sauce
Cook all together till thick add 3 tbsp cream cheese. And apply on pizza base.
Method for filling
Marinate chicken strips with salt, white pepper, green chili garlic sauce, lemon juice, ginger garlic, put in 1 tbsp oil till tender, give dum of coal. Mix with cream and keep aside.
To assemble
Grease pizza plate, roll the dough and spread in a 9 inch pizza plate, prick with fork, brush with creamy sauce, put chicken filling, top with 1 sliced onion, 1 capsicum sliced, mushrooms 4 sliced, cheddar cheese ½ cup, mozzarella cheese ½ cup, oregano leaves 1 tsp, bake for 30 minutes on 200 degree C. serve hot.