Colorful Diet for Glowing Skin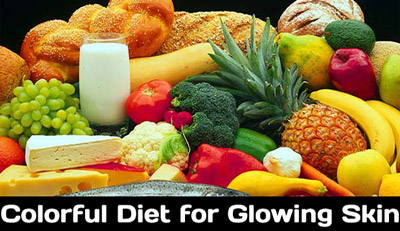 Experts list out the fruits with maximum benefits.
Apples: Mumbai markets are flooded with this fruit. You should have one daily because the vitamins in this fruit boost collagen and tighten skin. The minerals and antioxidants present in it are said to control acne, lessen under-eye circles, pigmentation and boost healthy hair.
Avocado: These fruits, though not that easily available, should be consumed for their high concentration of vitamin A and E. They can give you a natural glow, while moisturising and rejuvenating your skin.
Banana: Also referred to as the poor man's fruit, since it is the cheapest, bananas are actually a good source of potassium, biotin, manganese, vitamin C and B6. These help maintain skin elasticity and the antioxidants prevent ageing. Bananas can be used as homemade face and hair masks too.
Grapes: These fruits, also considered to be aphrodisiacs, have phytochemicals and phytonutrients, which regenerate, rehydrate and heal skin.
Orange: This could be considered an all-rounder, not just because its commonly available, but also because of its properties. With a high level of vitamin C and presence of beta carotene, folic acid, phosphates, iodides, iron, phytonutrients and flavonoids, this fruit is good to combat dark spots and blemishes. It also acts as a toner and natural bleach. Even the orange peel, if sun-dried and powdered, can be used all year as a scrub that lends an instant radiance.
Papaya: This is a wonder fruit. A storehouse of antioxidants like carotenes, vitamin C and flavonoids, vitamin B, folate and pantothenic acid, papayas can hydrate, brighten and smoothen your skin. Use ripe papaya as a mask on scrubbed, clean skin.
Strawberry: This pretty berry is a great exfoliator and with its high level of vitamin C and manganese, it is also a skin lightener and anti-ageing agent. The ellagic acid of strawberries is a UV protector.
Tomato: The quickest and easiest way to detanning your skin, is using a tomato — it is rich in vitamin A, C and K. The antioxidants in it prevent ageing. Via, Timesofindia