Khaleeji Henna Mehndi Designs for Hands Dubai, UAE Gulf Henna
Khaleeji Henna Designs for Hands 2015, Khaleeji Henna is a very popular fashion trend in Dubai, UAE (United Arab Emirates) Women and Girls, Arabic Brides likes to make Khaleeji Henna Mehndi Designs or Gulf Style Henna Inspiration on their Full Hands, Feet and Body.
Khaleeji Henna Took the place of Arabic Mehndi, it is new trend in fashion, now it becomes most famous among the girls. ladies makes patterns on their hands for special occasion like Eid, Wedding and Party etc.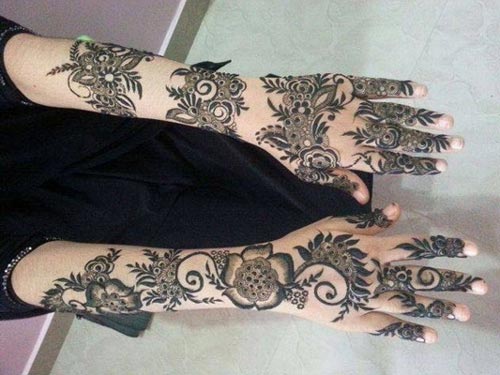 Khaleeji Black Henna or Mehndi also called Chemical Cone Mehndi, it's made by Mixtures of Chemicals Dye with Mehndi. Cone Mehndi is very common thing in markets in any country, mostly in Pakistan, India, Bangladesh, Dubai, UAE, and all Arabic Countries.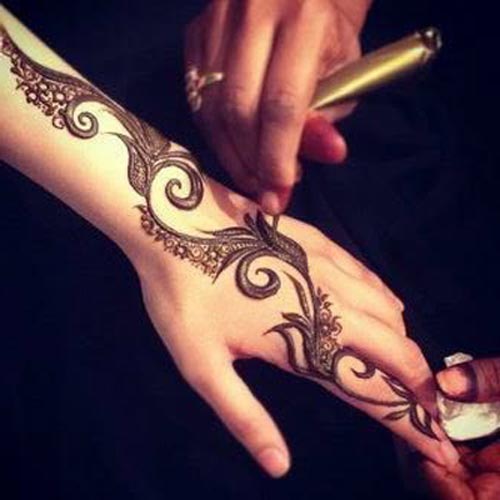 Black Khaleeji Mehndi Pattern for Hands done with black Cone Mehndi, making border and lines of different style, fill the spots with Mehndi it will give beautiful and stylish dual shade and will looks really amazing colors you can put the maskara or some other colours in it to give a fancy look to yours hands and feet mehndi designs.
Black Mehandi is usually apply on Party or other function, Black Henna always applied on Back Hands of girls and also on feet, use of Black Mehendi Designs is common in Dubai UAE Glitter, Khaleeji,Gulf Henna Inspiration.
Here is Stylish and Beautiful Khaleeji Henna and Gulf Henna Designs for Front and Back Hands