Multani Mitti Benefits in Urdu and Face Mask for Skin Whitening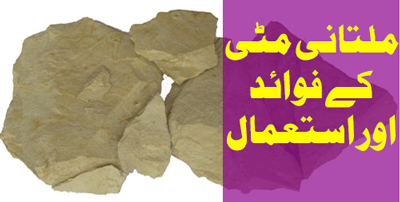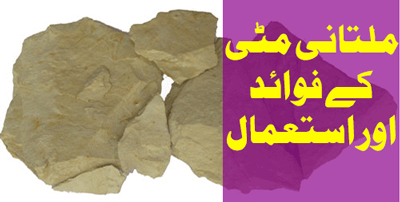 Multani Mitti in Urdu also known as Fuller's Earth in English is a clay that has ability to control extra quantity of oil and some other liquid naturally without any side effect, Multani Mitti Has incredible benefits for hair, it is most famous to use for hair for oily skin treatment and best to get rid from acne on face.
It is mostly use as a Multani Mitti Facial Packs and Multani Mitti Face mask, face cleaner and toner it helps to treat skin acne and oiliness, also makes your skin smooth, beautiful and glowing.
Multani Matti is a Natural Home Remedy for to make your skin fair and it's has no any side effects you can use it without any fear, and you can use it for skin whitening and fairness.
Here Is most Useful Benefits for Face
1. Very Effective Multani Mitti (Fuller's earth) Face Mask for Acne Treatment 
Mix one tablespoon of Multani Maitti (Fuller's Earth) with one tablespoon of rose water, mash up two inch piece of cucumber, add it in mud and rose water paste with some drops of lemon juice, make a mask and apply this mask on your face 15 to 20 minutes and then wash it with water.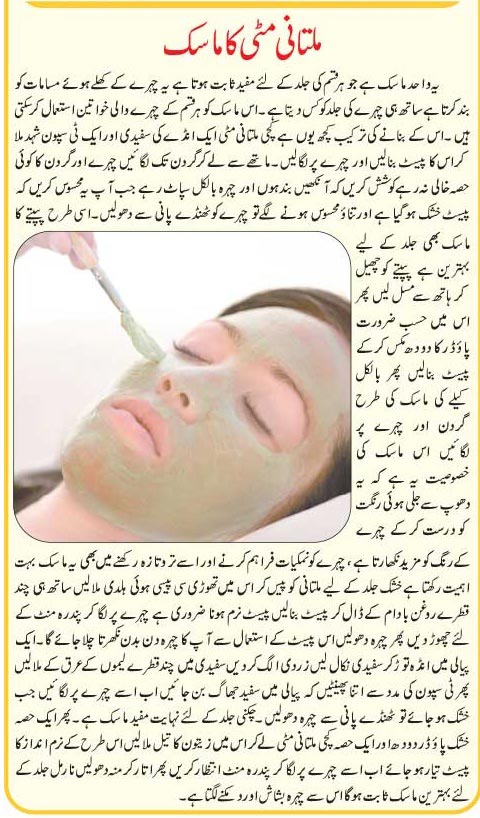 2. Best for Reduce Skin Oiliness
Multani Mitti (Fuller's earth) and Water of Rose balances the face's PH Level as need, and also reduce oiliness of skin.
3. Soft Skin
take 1 teaspoon crushed almonds, Multani Matti and a bit of milk make mix it well and make a paste apply it on your face this will make your face soft and dry-free.
4. For Fairness and Glowing Skin
Take 2 tablespoon of Multani Matti Powder, Juice of Fresh Tomato, Sandalwood Powder, mix it and make paste it will remove the facial spots, for more fairness and glowing add a dash of turmeric powder in it and apply on your skin for 10 to 15 minutes wishing your face with warm water, Use Multani Matti face pack for fairness daily base.
5. For smooth and beautiful Skin
Face Pack with 1 tablespoon Multani Mitti, Natural Honey and Papaya Pulp mix it and apply this paste on your face to get beautiful skin.
6. To Get Rid of Dark Spots
Mix Mint Leaves Powder, Yoghurt and a pack of 1 tablespoon of Multani Matti apply on Dark Spots or Dark Patches about 20 to 25 minutes and wash it off with warm water
7. For Oily Skin
Take Multani Matti mix it with Sandalwood powder and add few milk drops in it, apply this paste as mask on your face about 20 to 25 minutes then wash it off with warm water. your skin will becomes oil free.
8. For Skin Pigment Treatment
Mix Multani Matti with few Carrot Pulp add one teaspoon olive oil in it and make a face mask to get rid from Skin Pigment.
9. Radiant Skin 
Take Fresh Tomato Juice, Lemon Juice, milk as need, natural honey 1 teaspoon, powder of Multani Matti, mix it and and make paste apply on face for 10 to 15 minutes, use it regularly to get better result.