Beast Home Made Anti Acne Scar Face Mask Home Remedies, How To Get Ride Acne Scars Redness on Cheeks, Best Treatment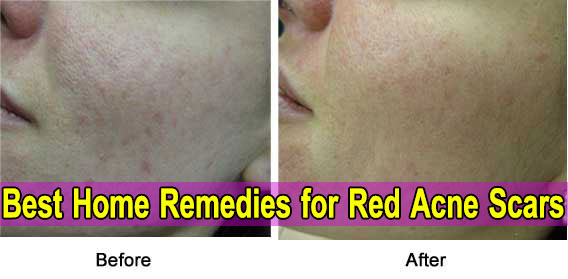 Acne Redness or Red Acne on Skin, Face and Cheeks is very common issue in Girls, Women and also in Men, there are many creams and medicines available in markets to Get Ride from Red Acne Scars and Red Pimples on Face butt these are not much affected and suitable for every skin, Home Remedies and Home Made Anti Acne Masks are better solution than Creams.
Here is Natural Home Remedy for Acne Treatment
Things You Need For Mask
Apple Cider Vinegar
Green Tea
Natural Honey
Sugar
One Teaspoon
One Bowl or like some this
Steps
 Take 1 Teaspoon of Apple Cider Vinegar and Put it in to a bowl.
 Add 2 Teaspoon cooled green tea.
 Add 5 Teaspoon sugar.
 Last Thing, Put 1 Teaspoon Natural Honey in it.
 Mix it well, for making more thicker, add more sugar as you need.
Apply the mask on your face by using cotton pad and do massage for few minutes, it will remove your skin dead  cell, and will improve circulation.
Sugar is works as a exfoliate in this face mask recipe, and helpful to remove acne scars and unclogging skin pores.
Leave the beauty masks for 10 minutes and then wash it with water and dry your skin. For beautiful skin use this anti acne mask one or two time in a week.
Note: Remove your Makeup before applying mask.
Recipe No 2: Acne Removal Face Mask with Cinnamon and Natural Honey
Things Which You Need For Mask
Cinnamon Powder
Natural Honey
One Teaspoon
One Bowl
Steps for Making Face Mask
Take One Teaspoon Cinnamon Powder put it into the bowl
Put 2 Teaspoon of Honey in it.
Mix it well until they are blended. Mask is ready for use if you think this mixture is thick and unable to use then add more honey in it as you want.
By using your finger, apply it on your skin or face and leave it for 10 to 15 minutes, make sure your face is damp before applying face mask, you will get better result.
After 15 Minutes wash it off with lukewarm water and apply a toner, i you not have a toner then you can use lemon juice, for good result and acne free skin you can use this mask daily.