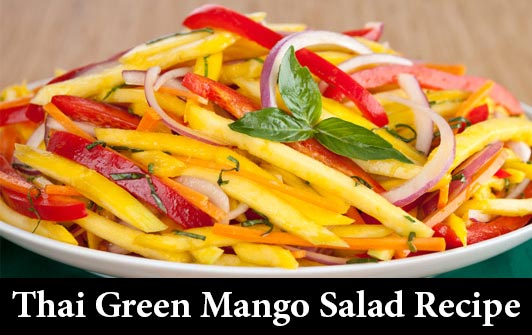 It is finally mango season and you must indulge in this deliciously tangy Thai Mango Salad before the raw, green mangoes vanish off the fruit carts. Addiction guaranteed!
Ingredients:
Green mangoes (peeled and shredded) 1 — 2
Water 3 tbsp
Sugar 2 tbsp
Fish sauce 1 tsp
Small onion (sliced) 1
Peanuts ½ cup
Chillies (grounded) ¼ tsp
Method 
•  Boil the water in a pot and add the sugar and fish sauce to it to make the syrup.
•  Allow the syrup to cook for 2 to 3 minutes and then take it off the heat, allowing it to cool for about a minute.
•  In a bowl, place the mango pieces and onion and pour the syrup on top.
•  Sprinkle the salad with the peanuts and chillies.
•  Refrigerate the salad for an hour before serving it so that all the flavours mix together. Your salad is now ready!