Best Home Remedies in Urdu and English For fair and Glowing Skin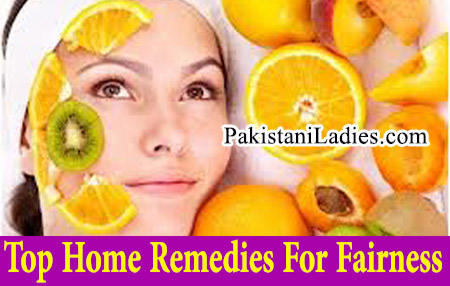 White Skin is signs of Beauty, but often we use lotion and creams to get white skin and Fairness but these creams can damage your skin and causes of skin diseases.
If you want fairness, use possible simple items, do not hurry continue to use this items patient.
1. Avoid from sun heat and drink about 8 glass of water daily plus eat fruits and vegetables, focus on your exercise, clean your neck and face before sleeping
2. Take few drops of lemon juice and mix it with 1 Spoon yogurt and use it before sleep as cream
3. Take Paste of Ripen Papaya mix it with yogurt and lemon juice apply on your face for 20 to 30 minutes then wash with fresh water
4. Take Two, three strawberries Paste mix it with few drops of honey and lemon juice apply on your face for 15 to 20 minutes then wash with fresh water
Read Also >> Face Care and Skin Glowing Tips for Men Women in Urdu and English
5. Apply banana paste on your skin for 20 about minutes
6. Take boiling oats paste and mix it with 1 teaspoon of lemon juice to make a paste, apply it on your skin, wash and dry
7. Water of raw coconut water is also very useful for fairness and skin glowing apply it on face about 15 minutes, it also helps Remove stains and spots on face.
8. Take 1 spoon of Cumin Boil it in water, wash your face with it's water
9. If you are unable to use any tips of that just cut a lemon in half rub on your skin slowly slowly It is more useful than others tips and home remedies.