Natural Home Remedies to Remove Dark Circles Under Eyes
Dark Circles Under Eyes have become a major issue these days; they not only affect your health but also dull your appearance and make you look aged. Dark circles are the dark color of the skin under the eyes.
Causes of Dark Circles
It can be caused due to many reasons like lack of sleep, hormonal changes, stress, dry skin, unhealthy diet and prolong work in front of a computer.
However, there are many cosmetics for the Removal of Dark Circles. Nevertheless, what is better than a homemade healthy remedy, which has no side effects?
Following are a few natural ways for the removal of dark circles to make and your face look healthy and young.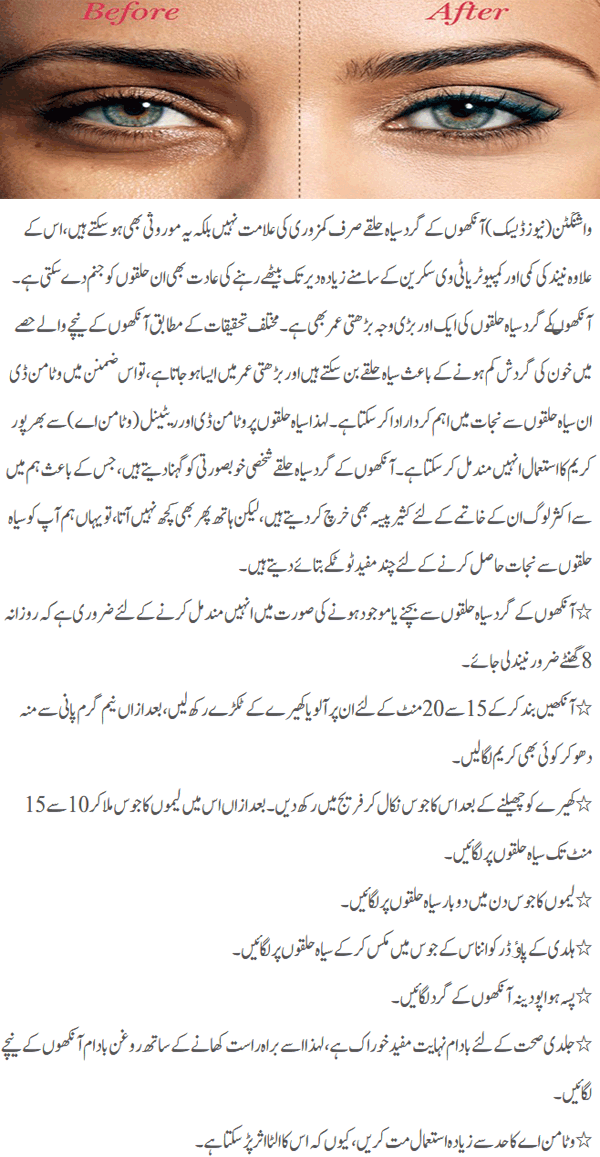 Also Read: Natural Home Remedies To Get Rid of Dark Circles in English
1. Tomatoes
Tomatoes are the best natural way for the removal of dark circles. They not only remove dark circles but also soften your skin. All you need to do is mix a spoon of tomato juice with a teaspoon of lemon juice and apply it on your skin. Apply it twice a day for ten minutes. If you need faster results, you can also drink tomato juice.
2. Potatoes
Extract juice by grating raw potatoes, soak a cotton ball in it and keep it on your eyes. Make sure it covers the eyelids and the whole area of the dark circles and keep for 10 minutes.
3. Meditation
We all know that stress is one of the major cause of the dark circles and to relieve from stress meditation also known as yoga is the best way. Thus, if you get rid of stress you will be free from the dark circles.
4. Orange juice
Mix some orange juice with glycerin, apply under eyes, and see the magic happening. It will remove dark circles under eyes and give your skin a healthy glow.
5. Cucumber
Apply chilled cucumber slices on your dark circles and notice the change or you can also apply a mixture of cucumber and lemon juice on the affected area and thus, you can get rid of the dark circles.