Latest Neck Designs 2022 for Salwar Kameez with Buttons & Piping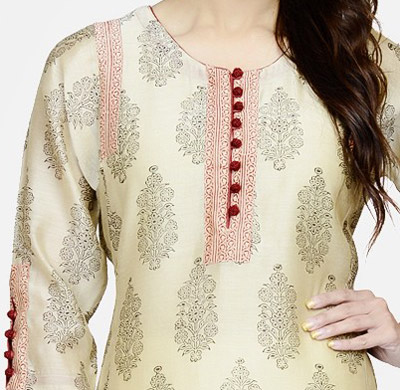 We always focus on things in clothing that are not important and often forget the most important elements. Let's take Different Neck (Gala) Designs 2022 as one, most of us never pay attention to them but what if I tell you? A wrong Neck Design can make you look fat and busty and the right one can make you look Modern and stylish? Yes, Its True! You might not agree to this, but this is a fact and all the fashion designers agree to it. So next time you better pay attention to the your Salwar Kameez Churidar Suit Neck Designs with Buttons.
Latest Neck Designs 2022
Today we will be discussing the latest Churidar Neck Designs for Kurtis with Buttons & Piping that will give your kurti a very vibrant and unique look not only that but also with the right choice you can stand out in a crowd.
There are many type of Gala designs and different designs were used for different types of dresses, U shaped Neck design mostly used for Frocks and Punjabi Salwar Kameez as well in these days Angrakha Style Neck Designs is very famous in Pakistan and India, Angrakha designs Gala also used for Kameez, Shirts and for Frocks.
If you want a to give a simple look to your dresses you should designed U shape or V shape Neck Designs its very simple and also looks good as well Pakistan, Indian and Bangladeshi Women and Girls mostly likes this style.
As we see that in last year Pakistani many Fashion Designer designed V style Neck on their dresses collection, for Cotton Lawn and Linen Dresses Neck Designs were very simple because the price of these dresses and are not high there for V and U Shape Gala is the best choice for this type of women dress.