Double Open Shirt Style Tail Gown Frocks and Dresses with Plazo
Fashionable Dresses for Wedding or Party 2015 in Pakistan and India for Ladies, Latest Designs Collection of Net Double Open Shirts with Plazo, Open Gown Dresses with Palazzo and Double Open Tail Gown Style Frocks Fashion Trends in this New Year 2015 for Teenage Girls and Women.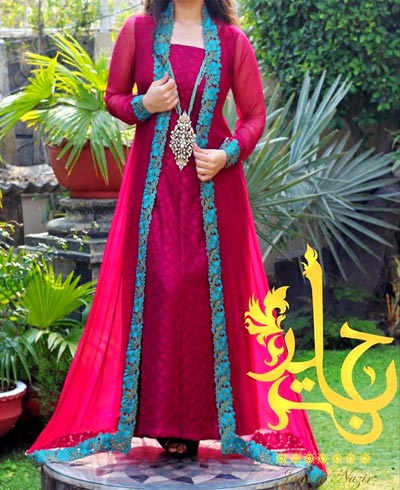 The Fashion Trends of Dresses has been changed every season according to the women desire, salwar kameez designed also changed every year designer have try their hard to designs more stylish and beautiful dress.
Click or Touch on Picture To View In Full Size
In Indian Women Girls also wear Tail Gown Dress specially in Indian Province Pujnab also called Panjab is a larger state of the India, and open shirts are very famous in all over the India.
If we see Double Open Shirts style gown they are designed as tight Pajama with long length Frock and Shirts with beautiful works on their neck also spelt Gala, with lace and motifs, that make it more stylish and good looking.
Click or Touch on Picture To View In Full Size
Every Country's people have their own tradition and style of dresses, therefor the designs and fashion of Frock and Open Shirts is different in every country of the subcontinent.
Shalwar Kameez is Islamic Dress as well as traditional and National Dress of Pakistan and majority of Pakistani men and women worn this dress.
Click or Touch on Picture To View In Full Size